Is Mourinho losing control?
Jose Mourinho has been licking his wounds this week. He forgot the old saying about it not being the size of the dog in the fight, but the size of the fight in the dog that matters most.
Clearly, in picking on Manuel Preciado, coach of Sporting Gijon, the Special One made one of his less than special decisions.
Yes, Real Madrid duly picked up three vital points Sunday night, but only after an enormously entertaining war of words between Mourinho and Preciado, a robustly physical 90 minutes of football between the teams, and a remarkable confrontation between two sets of coaching staffs in the underground parking space of Gijon's Molinon Stadium.
[+] Enlarge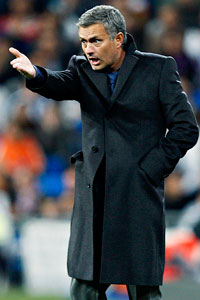 David R. Anchuelo/Getty ImagesJose Mourinho keeps pushing people's buttons.
Since the match, Mourinho has been unusually silent, but his club has defended him. Real Madrid rolled out two of its most dignified, successful and beloved statesmen, Emilio Butragueno and Don Alfredo di Stefano, to talk to reporters in the past 24 hours to take the heat off Mourinho.
"We didn't sign him in order to make friends. We signed him to make the club win games," Butragueno said.
"I don't need to have a word with Mourinho because I can see he is unifying the players, taking the pressure off with his declarations and, moreover, he knows how to defend himself," Di Stefano said.
Translation: The team is winning, El Clasico is right around the corner and Mourinho has taken things down a notch by shutting up for a few days. And let's not forget, the fans like their new coach's belligerence.
But please try to judge your battles better in the future, Mourinho.
All of this happened because things got way out of control. Not out of control in terms of Real Madrid's regal identity being tarnished, or because new standards of bad behavior were set before or after Los Blancos went to Sporting Gijon and won 1-0 with a lateGonzalo Higuain goal. After all, the sport is littered with physical and verbal spats between players, coaches, journalists and agents.
Instead, the fireworks reflected the fact that Mourinho, a renowned control freak, lost his grip on a situation. The Special One puts in punishing hours of preparation to ensure that nothing will block his ambition of making Madrid the dominant football club in Spain and Europe. This time, though, he lost the plot.
Just before the Spanish season started, Mourinho confided in a friend of mine that he feared Los Blancos had the odds stacked against them. He believed that Barcelona's recent domination meant that many medium- to small-sized teams turn up at Camp Nou with a defeatist attitude. To Mourinho, they are football tourists who marvel at Xavi's geometric brilliance and play not to win but for the chance to exchange shirts with Lionel Messi.
So when he heard in September that Preciado was going to rest players for Sporting Gijon's trip to Camp Nou, the Special One jumped to the conclusion that Preciado was waving the white flag. But the match turned out to be a gritty affair, with Barca winning 1-0 and Gijon defending for their very lives.
"My head is exploding because I came here to get a 0-0, we defended really well, but we attacked badly," Preciado told reporters after the match. "I gave it everything, the players gave everything. But sometimes you just cannot stop Barcelona"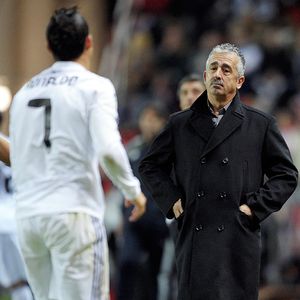 Miguel Riopa/AFP/Getty ImagesIn Manuel Preciado, Mourinho picked a fight with the wrong guy.
It was unfair and inaccurate of Mourinho to attack Preciado. It was also dangerous. Once a ferocious defender, the Gijon manager remains a ferocious man who fears nothing. This is someone who lost his wife and one son to tragically early deaths. So do you think football -- and Mourinho specifically -- is going to intimidate him?
Before the Real-Gijon match, Preciado called Mourinho "despicable" and a "poor colleague." After the match, in which Gijon committed 19 fouls to Real's seven, Mourinho waved two fingers at Preciado from the window of the Madrid team bus, and his assistant Rui Faria shouted, "You guys are going down to the second division." The Gijon manager then hurled a plastic water bottle at Mourinho's window.
It's not the first time, of course, that Mourinho has turned the world against him. He misjudged the situation in England when he called Arsene Wenger "a voyeur." In Italy last year, he picked a fight with journalist Andrea Ramazzotti, only to apologize. Mourinho got it wrong on those occasions.
He often gets it right. The cleverly worded potshots which Mourinho has been taking at Pep Guardiola for nine months now, as coach of Inter and now boss of Madrid, are irking the Barca man. Mourinho's words are meticulously planned, planted like little poisonous seeds that serve to distract opponents and deflect media attention away from his players.
But with three important matches on the horizon -- Athletic Bilbao at home, Ajax away and Barcelona away -- the last thing Mourinho needed was bad press, not to mention the physical game he got at the Molinon that saw his star center back, Ricardo Carvalho, hobble off the pitch.
Mourinho is a big dog. But in snarling at Preciado, he found that the size of the fight in the little dog was much more than he'd anticipated. His players came up with the goods, the club enveloped him in protective words, and Mourinho will no doubt offer a sarcastic put-down of Preciado and Gijon … from a safe distance.
One of Mourinho's distinguishing characteristics is crisis management; just when a situation seems to be hurtling out of his grasp, he regains control. He'll need to do exactly that over the next two weeks as a fascinating battle for the domination of Spain intensifies.
Graham Hunter is a Barcelona-based freelance writer for ESPN.com who specializes in La Liga and the Spanish national team. You can reach him on Twitter at twitter.com/BumperGraham.