Manchester United show the value of regeneration in outclassing Bolton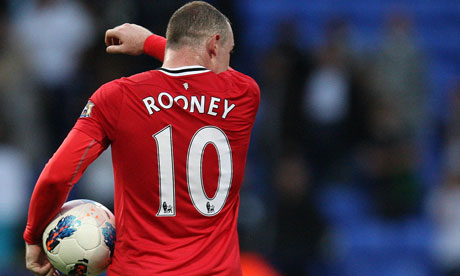 Conventional wisdom has it that
Manchester United
habitually start the season sluggishly and do not hit their straps until after Christmas, in which case heaven help the rest of the Premier League. The reigning champions' 100% record has thus far been illuminated by 18 goals in their first four matches.
They look the business all right, but a word of caution is probably appropriate amid all the acclaim – the word in question being Chelsea, who are due at Old Trafford on Sunday. On current form United must be expected to win again, but Sir Alex Ferguson will need no reminding that this time last year it was Carlo Ancelotti's team who were irresistible, taking maximum points from their first five matches and scoring 21 while conceding just one.
We all know what happened next: they lost their way and Ancelotti lost his job. United are unlikely to disintegrate, of course, but Ferguson is right when he suggests judgment of his freshened squad should be delayed, at least until the end of a week which takes them to Benfica in the Champions League on Wednesday before Chelsea come calling.
Outclassed by Barcelona in the European Cup final last season, United are striving to imitate the Catalans' composure, control, and clever short-passing game. It is interesting to note that the 11 chosen to start at the Reebok on Saturday included just three of the players who were on duty on 11 September last year. Edwin van der Sar, Gary Neville, John O'Shea and Paul Scholes have all gone, Dimitar Berbatov might as well have done and Ryan Giggs, 38 in November, is no longer assured of a place.
Invigorated by the arrival of David de Gea, Phil Jones and Ashley Young, and the return of Javier Hernández, United were much too good for homespun Bolton, sympathy for whom should be moderated by their recidivist approach.
Kevin Davies, always a foul in waiting, said beforehand that they would test the mettle of their celebrated opponents by putting them through a rigorous physical examination and the striker, who has long given the description double meaning, was as good/bad as his word, putting Tom Cleverley out of the game after eight minutes with a foot-breaker of a challenge, which left Cleverley and Ferguson incensed, but not surprised.
Davies's pre-match threats had focused on De Gea, United's new goalkeeper, whose frailty elsewhere led Bolton to believe there could be profit in unsettling him through robust proximity. If that was the plan, De Gea came through the test with flying colours, an assured performance embellished by a notable early save from Ivan Klasnic which had the red legions chanting the young Spaniard's name. United took the lead in the fifth minute, when Nani's right-wing cross was touched in at the near post by Hernández, and the outcome was never in doubt after a similar goal from Wayne Rooney, at the far post this time, made it 2-0 after 20.
Jones, promoted in place of Chris Smalling at right-back, was the provider for the second, and went on to add to his burgeoning reputation with a mighty contribution, catching the eye again when he went past two defenders to set up Rooney for 3-0. In other circumstances, the 19-year-old recruit from Blackburn Rovers would have been the man of the match, but with a scoreline like this the honours belong to the two strikers.
Given good service (unlike the unpromising fare he has to feed on with England), Rooney is back to his very best and richly deserved his second hat-trick in successive Premier League games. Hernández, having sharpened fitness and form with Mexico, was no less impressive and would have had three of his own but for Nigel Reo-Coker's goalline clearance. A big target man to battle for the crosses? Bolton may need Davies for that, but the quality of United's passing has rendered the old British behemoth redundant. Barça have shown us the way forward
.