Grim day for Arsenal but Arsène Wenger says he will not be leaving
• Worst defeat since 1896 puts further strain on manager
• Arsenal disarray in contrast to Manchester United's glee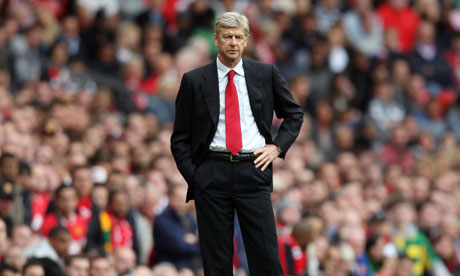 "No, because I feel it was under very special circumstances," the Arsenal manager replied, pointing out that eight senior players were absent through injury or suspension and that three games into a new season, one that has brought Champions League football to the Emirates Stadium, is an indecent time for such a debate.
"It is a terribly painful defeat but I don't compare whether it is the most painful of all.It is painful and that's it. We have played three league games and two Champions League games and it is at the end of a season when you can make a balanced decision. Of course this hurts, it was humiliating, but you could see we had not recovered physically from Wednesday night [when Arsenal beat Udinese], we had eight players out, they had class and they punished us."
Wenger claimed "it was not an 8-2 game" and insisted he is not entirely culpable for Arsenal's struggles in the transfer market. "We have the money if we can find players who can strengthen our team but I am not the only one working on that at Arsenal. We have 20 people working on that, but today we had too many players missing. We didn't have the squad to cope. We have not found the solutions. It is difficult to find excuses after a game like that but we are behind the other clubs in terms of wages."
The Arsenal manager confirmed he is close to signing the Monaco forward Park Chu-Young and denied reports he is interested in the Evertonmidfielder Mikel Arteta. As for increased criticism of his handling of the club, Wenger said: "I am in a public job and I have to accept that. The players we have sold are players I brought to the club. You know me well and should give me more time before saying, 'Have I have got it right?' We were poor defensively and we collapsed more physically than mentally."
Samir Nasri made an impressive debut in City's win and believes the two Manchester clubs have set an early standard. "I had a good game but the most important thing is we won 5-1 and sent out a signal to other clubs," he said. "This is just the start of the season, it's important to keep our confidence, but I'm convinced we have a great team here and can win things," he said.