Manchester United as a way of life

The United end was in full voice at the Hawthorns on Saturday, 2,491 fans enjoying only the team's fifth win in 13 matches since the turn of the year. The win picked United up off the floor after the lowest moment of the season in Greece. Three points, three goals and a clean sheet brings relief, but nobody will get carried away until United beat decent teams. United have defeated just one of the top nine sides (Arsenal) so far -- one win from 11 games. Matches against Liverpool and City at Old Trafford loom with a sense of foreboding.

While in fine spring voice in Sandwell, however, United fans don't always get it right with terrace songs. When Tottenham fans sing "Oh when the Spurs go marching in," it sounds magnificent. When United fans rarely try it and many other songs, they sing it too fast. They simply won't slow down.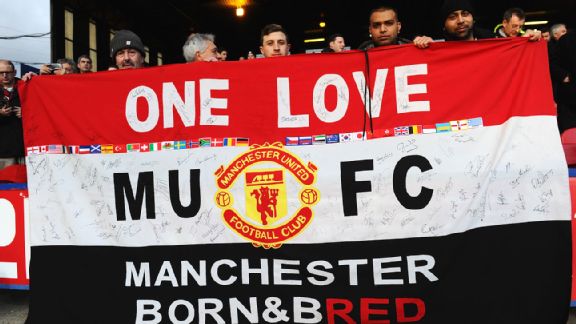 Mike Hewitt/Getty ImagesFor diehard United fans, supporting the team at Old Trafford or on the road is a way of life.
United have won the league so many times that you'd think fans would have learned it's "campioni" before ole, ole, ole, yet a hardy bunch persist with ''championi," a word which sounds like a brand of Estonian dog food, but doesn't exist in any language.

United fans have also sung "We're Man United, we do what we want," which can translate to anything from ransacking the catering kiosk at Barnsley to throwing beer at each other beneath the stands at Stoke. It's usually a minority, but a visible one, especially if you're trying to buy a pie at Oakwell or a pint at the Britannia.

The latest United ditty at the Hawthorns on Saturday offered the view that the team won't be winning "the league or the cup," but that as they're Man United, they couldn't give a care in the world. Insert your own alternative for "care."

The song was a joke, sung by the majority in good humour. Others didn't like it because they do care deeply about results. When fans talk about their favourite memories, they inevitably cite famous victories, perhaps in Barcelona, Rotterdam or Moscow.

Yet it's also true that the diehards will keep going to games regardless. United is such a big part of their life that losing it would be like losing family. The club is a mainstay of their social life, their free time and travel rolled into one. They go to games and feel United as a group; the bond of the away fan is a strong one. They've held together during this dire season, the adversity making them stronger and keen to savour the precious few highs of life under David Moyes.

That community would barely change if the team were in the fourth division. What they do is far more than the result of a football game played by people they don't know; it's a way of life, an alternative to the realities of every day existence. And it's a release with constant demands. The life of the hardcore fan centres around applying for tickets, checking to see if those applications have been successful, cursing when they haven't, booking travel, helping friends out with tickets. There are fans who, when a preseason tour is announced, go straight to travel websites to find out the best way of seeing their team in Hong Kong or Los Angeles. It's an all-consuming and expensive lifestyle choice.

Marriages have been formed through watching United, friendships made for life. A community based around respected pillars like Teresa McDonald, who passed away last week after a long illness. Teresa traveled the world watching her team, usually from her home in London. She'll be greatly missed.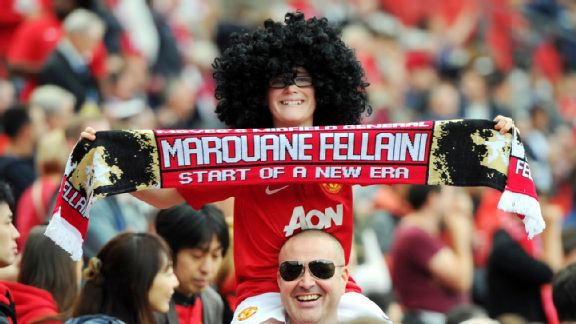 Michael Regan/Getty ImagesThe season started with renewed hope, and new arrivals, but even during the dire months that have followed, United fans haven't wavered in their support.
Cockney Reds like Teresa have long been derided; they're also some of United greatest supporters. For them, 90 percent of games are away matches, which means getting home at 2 a.m. after a midweek game at Old Trafford. Mike Dobbin was another Cockney Red who travelled to games from London. He passed away five years ago, but the last game he missed before he died was in 1991 when he agreed to be a godfather at a christening on the belief that it wouldn't clash with a match. It did. Before that, he'd missed a handful of games since the mid-1960s.

After '91, Mike watched more than 1,000 consecutive matches in all competitions including friendlies. In total, he watched United in 45 countries from Bermuda to Nigeria, Brazil to England. He saw United at more than 250 different grounds and the last European away game he missed was Milan in 1969.

There's another Londoner who keeps to himself and has missed a game home or away for a similar amount of time. Like Teresa and Mike Dobbin, he's seen far more thin than thick. Success was appreciated, but it was never considered a right. The players and managers were employees on contracts; the fans were there for life.

The faces change and fans go to more games during various stages of their life, but the body of United's hardcore has remained intact regardless of results. When fans stopped going to matches, it was usually for personal reasons, not because the team stopped winning.

Liverpool, the second biggest club in Britain, have similarities with their great rivals. Liverpool fans didn't stop going to games when their team stopped winning titles almost a quarter of a century ago.

A good chunk of United fans started supporting the team before they became successful. What came under Ferguson was a huge bonus, but the club enjoyed vast support before the Scot rolled up at Old Trafford and started shouting at grown men.

And even in Ferguson's dire early years, the away following could be vast: 17,000 fans filled Highbury's Clock End in 1987 for an FA Cup defeat, games at Hillsborough would see similar numbers of travelling fans.

But that's the hardcore, a small segment of United's support. What of the other fans United have courted in the cash soaked Premier League era? Will those fans who will use recently constructed hospitality marquees behind the Stretford End for the forthcoming games against Liverpool, Manchester City and Olympiakos be as loyal? The patrons there are attracted by the glamour of the biggest games. Demand was highest for Real Madrid at home last season and won't be matched for Europa League ties next season.

United will bump along some more, beating a few lesser teams and losing to a few better ones. There's nothing, absolutely nothing, to suggest that the final two months of the season are going to be any different to the previous seven months before it.

Yet every away game will be a sell out and the fans will sing their great and awful songs as they stomp around England, and maybe, but unlikely, beyond.